Following the success of our European Championships live commentary, we are running this feature again on The Arabian Magazine. Perfect for those at work who can't watch the live feed itself, as well as those who want to enjoy a different angle to complement their viewing of the show, this gives you a real insight into the World Championships as they happen. Check back reguarly for news, videos and photographs from this thrilling event – the Paris World Championships!
Many thanks to our wonderful sponsor, GS Arabians International in Florida, who are kindly supporting this feature. Thank you Glenn Stevenson, and good luck this weekend at the Thanksgiving Show in Tampa, Florida!

SUNDAY 27 NOVEMBER
3.11pm: The final shot – EKS ALIHANDRO!!

3.02PM: And here is the Platinum World Champion Stallion, Royal Colours!

3.02pm: World Champion Stallion EKS Alihandro!

3.02pm: Silver World Champion Stallion Sultan Al Zobara:

3.01pm: First, IM Bayard Cathare with Alexandra Cibois at the lead… It melts your heart!


2.42pm: Well, that is it! The 2016 World Championships are over! We have new names in the history books – D Ajayeb, D Seraj, Donna Molta Bella SRA, EKS Alihandro, Gallardo J and Mai Aljassimya. We just have the final photographs to upload this afternoon, and then over the coming days, we will share further video and images from the 2016 Paris World Championships. Thank you for following, see you somewhere in the world soon.
2.31pm: The crowd's favourite is Bronze, IM Bayard Cathare!
2.40pm: Sultan Al Zobara is Silver World Champion Stallion!
2.39pm: EKS ALIHANDRO is the 2016 Senior Male Champion – his third World title! Many congratulations to his breeders Elkasun Arabians of South Africa and Athbah Stud! Wow – Giacomo is riding Alihandro into the arena! What a moment!!
2.35pm: While the flowers are being given out, a thank you to GS Arabians International for their great support this weekend in sponsoring this feed. They have a website coming soon and you can see them in both editions of The Arabian Breeders' Magazine.

2.32pm: First, we have CR Jasmeenah and Royal Colours back in the ring. Here is another photo of Jasmeenah if it will load…

2.31pm: I think that we are finally ready for the results of the Senior Male Championship !
2.27pm: Royal Colours is one of the few straight Egyptian champions. Sired by True Colours, he is out of Xtreme Wonder. He is owned by Dubai Stud, who have also had a great show.
2.25pm: We now have the Platinum World Stallion Champion- Royal Colours!
2.22pm: RFI Farid is the winner of the Leading Sire
2.20pm: Ladi Veronika wins the Best Broodmare.
2.16pm: EKS Alihandro is the winner of the high point score and thus wins the glitter painting done at the start of the show. Very beautiful!
2.12pm: EKS Alihandro is certainly showing the others in the ring that this is his class.
Will this be his third World Championship or will Sultan spring a surprise?
2.10pm: And Bronze, Ghazwan Al Jassimya…

2.09pm: And Silver, Luigi..

2.07PM: Here is the only 2016 Triple Crown Cahmpion of 2016, Gallardo J…

2pm: IM Bayard Cathare has just truly lifted the roof on this show for the first time this weekend!
1.57PM: Here are the Yearling Male World Champions, D Seraj, Jaal Al Jassimya and Mansour AM:



1.55pm: Technology is back – here is the Platinum World Champion Mare, CR Jasmeenah. It is so lovely as HH Sheikh Jassim has given Jasmeenah's breeder, Carol Ratcliffe, the Platinum Trophy to keep, such a lovely gesture.

1.52pm: Time for the last championship of this year's show, the Senior Male. I think everyone is expecting EKS Alihandro to take this but I know that Sultan will give a good fight!
1.50pm: Oh, it was so close in that championship – just one point! Gallardo J had four votes for Gold while Luigi had three. 22 points vs 21 – so close!
1.32pm: Bronze goes to Ghazwan Al Jassimya making this the most successful World Championship for Aljassimya Farm to date.
1.31pm: Silver goes to Luigi!
1.29pm: The 2016 Gold Junior Male Champion and the European Triple Crown winner is GALLARDO J!!!
1.27pm: Has Gallardo J done it? The results will be in very shortly. We hoe to post photos soon…
1.21pm: Technology does not like me today! First and most important, D Seraj was unanimous Gold Yearling Male World Champion!
12.59pm: Marilyn Sweet of Sweet Photography is doing a sterling job for us at this show. You will be able to see all her photos at www.sweetphotography.com towards the end of the week. We will share when they are ready.

12.57pm: The prizes are still being presented to D Seraj, Jaal Al Jassimya and Mansour AM. But we all know what is coming next…. The Juniro Male World Championship, with Gallardo J on the final step to winning the European Triple Crown title…
12.53pm: And the Bronze Yearling Male World Champion title goes to Mansour AM!
12.51PM: The Silver goes to Jaal Al Jassimya!
12.50pm: And the Gold Yearling Male Champion for 2016 is D SERAJ!
12.49pm: Here is the voting for the Senior Female Championship:

12.36pm: And the Bronze Senior Female World Champion, Aja Europa:

12.35pm: Silver Senior Female World Champion – Tehama Ballalina:

12.33pm: The photos of Jasmeenah will be available once the Yearling Male Championship is over. Here is the Gold Senior Female World Champion for 2016, Donna Molta Bella SRA:

12.27pm: Oh, that was lovely… Tom Schoukens handed the lead to Mark for him to take Jasmeenah on her lap of honour. Mark was in tears, and a few appeared in my eyes, too. I am not suprised, such a truly special moment. Mark doesn't have long to gather himself though – his horse is the first in the Yearling Male Championship!
12.21pm: The Platinuim World Champion Mare title goes to CR Jasmeenah! And here she comes, such a special mare who has done so much. Bred in the UK by Carol Ratcliffe, she is owned by Aljassimya Farm. Carol is in the ring with Sheikh Jassim along with Mark, Peter and Bev Gamlin, Mark, of course, being the handler who showed Jasmeenah to so many titles here in Europe. A very special moment for this lovely family.
12.18pm: The mares are just getting ready to leave the ring. The Yearling Colts are next and, for the second year running, we have a World Top Nine rather than a World Top Ten. Where are all the colts?
12.13pm: Meanwhile, this is how the votes went for the Junior Female Championship:

12.10pm: Franck Cibois is over the moon with Bronze! So good to see, he comes into the ring with Aja Europa with the biggest smile on his face. He is so happy and it is lovely to see such sportsmanship all the way down the line. Donna Molta Bella, meanwhile, has her cheerleaders. Anthem now, and photos to follow once Marilyn has run back up to the press area.
12.09pm: Aja Europa is Bronze!
12.09pm: Silver goes to Tehama Ballalina. She is such a lovely mare, I do love her.
12.08PM: Paolo is over the moon and there is no doubt that, when this mare turns it on, she really does turn it on. She is a double World Champion now – no small feat! Platinum next?
12.07pm: The music has started – the 2016 Gold World Senior Female Champion is…. DONNA MOLTA BELLA SRA!!!
12.01pm: The mares have just left the arena. I really don't know which way this is going to go but my gut says Donna Molta Bella, much as I would love it to be Tehama Ballalina. I guess it comes down to whether the judges want to give Paolo three championships as he is pretty much a dead cert for the Yearling Colt title and he has already won the Yearling Female.
11.58am: Here are the votes for the Yearling Filly Championship.

11.55am: Ann Norden is sitting this championship out as one competitor is from her farm. This now makes it even more interesting..!
11.47am: One more of Mai Aljassimya with Sheikh Jassim of Aljassimya Farm.

11.46am: And here is Bint Hazy Al Khalediah, Bronze Junior Female World Champion:

11.44am: Silver Junior Female World Champion Mozn Albidayer:

11.43am: Here we are, the beautiful Mia Aljassimya, the 2016 Gold Junior Female World Champion:

11.42am: Here we go – Donna Molta Bella SRA is the first to show in the Senior Female Championship! This is going to be close…
11.30am: So, the Gold Junior Female World Championship goes to Mai Aljassimya. Shje is a lovely filly and Aljassimya Farm of Qatar will be delighted with this result. Mozn Albidayer, fresh from the United States, has taken the Silver title, marking the end of an illustrious two-year-old year. Bint Hazy Al Khalediah, now sold to Kuwait, added another medal to her collection. And now, Marilyn is back for the photo exchange! It's all go here!
11.22am: And the Bronze goes to Bint Hazy Al Khalediah.
11.21M: Silver goes to… Mozn Albidayer!
11.20am: It is time… Your 2016 Junior Female World Champion is…. Mai Aljassimya!
11.17am:The music has started, and it won't be long before we know our 2014 Junior Female World Champion. It really is anyone's guess as the way they shows today definitely turned the class results around.
11.14am: The very competitive Junior Female Championship is now underway. Several spooked at the Moulin Rouge windmill at the end,and it is all to play for.
11.07am: I can't not share this – just what a World Championship title means. Handler Raphael Curti with Madinat Al Baydaa, Manager Chris Lowe on the right. Congrats guys!

11.04am: Dubai Stud are also the winner of the owner/breeder award. Here they are celebrating their latest World Champion, D Ajayeb.

10.59am: Here she is, your World Champion Yearing Filly, D Ajayeb. Hot off the camera of Sweet Photography!

10.50am: So first blood goes to Dubai Stud with D Ajayeb, out of a previous World Champion title hold, Ladi Veronika. The Ajman Stud too Silver with the multi-garlanded HDM Maria Apal. Al Baydaa Stud, however, will be thrilled with their Bronze. Manager Chris Lowe has done a great job in making this one of the top modern straight Egyptian farms in Egypt and this lovely filly is proof of all he has achieved. Well done to all, this was a very tough class.
10.46am: And Bronze goes to Madinat Al Baydaa!
10.45am: Silver goes to HDM Maria Apal
10.44AM: D AJAYEB!
10.41am: The results are almost in! The Gold 16 Yearling Filly Champion is…
10.31am: All ten fillies have shown, now they come back in for seven minutes of comparative judging. And then, we wait.
10.29am: RFI Farid is the sire of the moment. Four of the ten yearling fillies are by him.
10.25am:The music has been changed! HDM Maria Apal is now in the ring, with Belladonna AT hot on her heels. This really is such a strong championship, and Belladonna is really showing herself with such confidence. Oh no, she just fell at the gate. I hope she is okay.
10.21am: So far this show, we have had Jumping Jack Flash as the entry music . For championship day, it is Led Zepplin's Whole Lotta Love. A cool song but an interesting choice for this moment with all the scratching and scrapping. I reckon a few people will have headaches by the end of the day!
10.19am: I think we are now ready for the Yearling Filly Championship to begin.
10.16am: Theresa de Barbon and Dr Nasr Marei have each been presented with an award as they are retiring from the DC and judging committee respectively. They will be missed.
10.12am: Graham Smith from Australia has declared that the 2016 Paris World Championships is open!
10.07am: Anyone expecting the show to begin with the Yearling Filly Championship will have to wait. We have a speed painter who has just painted a glittery Arabian horse in less than eight minutes. All good fun but it surely cannot help the tension in the collecting ring! The high point horse will win this painting – I think that is EKS Alihandro.
10.03am: There is a choir singing today, a nice touch. The arena looks fantastic, too!

10.01am: A couple of photographs of just some of the prizes on offer today, taken by our official photographer, Marilyn Sweet of Sweet Photography.


9.48am: I do love Championship day. There is always a very special atmosphere, and the tension among trainers is palpable. I don't envy them their job at this time of year, it has to be said! Looking through the start lists, the competition is tough. Very tough.
In the yearling fillies, HDM Maria Apal has to be a serious contender for the Gold title, but then there is also D Ajayeb and Belladonna AT, neither of which can be discounted. Madinat Al Baydaa, Aja Caprice, Anwar Al Shahania and Loulou Al Nasser are also stars in their own right.
The yearling male is a more straitghtforward affair, many feel, and the title will likely go to D Seraj, the exotic FA El Rasheem son that captivated many yesterday.
The junior female is not so straightforward in terms of the obvious champion, but Mai Aljassimya, Mozn Albidayer, Elle Flamenca and Bint Hazy Al Khalediah will surely all be up there.
The junior males is one that I would not like to call! It is, essentially, a battle beteen Luigi and Gallardo J, with the latter winning the Triple Crown if he wins here today. This will be a very tense championship, I feel.
The mares will be a clear battle between the young bay Donna Molta Bella SRA and the older, grey mare, Tehama Ballalina. This will, again, be another very tough contest. In Aachen, it went the way of Ballalina, but who is to say what will happen today.
The stallions are, perhaps, the clearest – EKS Alihandro is unbeaten, but you can never say never. Sultan Al Zobara and IM Bayard Cathare will put on a great challenge for the title, of that there is no question.
9.41am: Good morning from ringside at the 2016 Paris World Championships! Today is the day where dreams will be realised and champions made. To go with the video below, here are two lovely photographs of Bayard in his class yesterday.


8.00am For the earlybirds, here's the video from yesterday of IM Bayard Cathare winning his class.
SATURDAY 26 NOVEMBER
3.44pm Here's the video from yesterday of Tehama Ballalina winning her class.
2.15pm: That is us done for today unless we can load some more photographs later. Tomorrow is championship day, where dreams will be realised for the few. Make sure you join us for what is sure to be a magical day. Thank you for following, and thanks once again to our wonderful sponsor, GS Arabians International!
2.12pm: The World Top Ten Stallions are:
Adham Saqr
Ainhoa Saadeen
Bebears El Farida
Dzahi Nunki
EK Dehor
EKS Alihandro
IM Bayard Cathare
LVA Maximus
Sultan Al Zobara
WH York
2.09pm:IM Bayard Cathare won, with LVA Maximus in second. Third went to WH York. Adham Saqr is fourth, Ainhoa Saadeen – who I think won the French awards – is fifth, with EK Dehor sixth.
2.08pm: The awards for the best french horses are being given – but it is all in French, so not q00% sure who has won what. Meanwhile, the results are being handed out for for the last class.
2.03pm: We are still waiting for the results from the last stallion class…
1.58pm: The Best Mover goes to EKS Alihandro.
1.55pm: The Best Egyptian Male award goes to Adham Saqr (IImperial Madori x Ameera Saqr).
1.47pm: 93.58! That is IM Bayard Cathare (Padrons Immage x Shamilah Bagheera) comfortably into the lead and the class win. He only got 19.5s for movement though – go and check out his video on Facebook and let me know what you think!
1.42PM: IM Bayard Cathare is in the ring – check out the video on Facebook,, which is uploading now – and the crowd is loving him!! It is great to see a horse shown with such passion! WH York (Marwan Al Shaqab x WH Moneca Ren) is in the lead with 91.25 points. Really curious to see what he judges will do with Bayard.. LVA Maximus (Espano Estopa x Challon Salana) is now showing.
1.32pm: Right, now that things have calmed down a bit, here is the World Top Ten Junior Males:
Al Nadir
Ammar Al Nasser
Falah Al Shaqab
Gallardo J
Ghazwan Al Jassimya
Luigi
Mansour Al Jalawiyah
Masoun Al Adeyat
R'adjah de Cartherey
Tchaata Inziato
1.25pm: And your class winner, EKS Alihandro!

1.24pm: Hot off the press once more, first we have Sultan Al Zobara…

1.16pm: The thing that I love about EKS Alihandro is that he is unbeaten. Such a huge achievement, and no wonder this is appears to be his last show. Honestly, this was a brilliant class. The first goosebumps of the show for me. On with the last class…
1.11pm: The presentation of the winners, EKS Alihandro, Sultan Al Zobara, Dzahi Nunki, Bebears El Farida, Jahamal de Cartherey, and ROE Mariekh. Just one class left but it's a good one! Remember IM Bayard Cathare? He's next!
1.10pm: Remember Gallardo J? Seems an age ago now since he showed, but here he is!

1.08pm: A HUGE score for Alihando – 94.25! Five 20s for type, two for head, and one for movement. Easily the glass winner with a score like that. Two great horses competing against each other. WOW.
1.05pm: Alihandro seems to have been in the ring showing for a very long time now. Sultan's scores are in – four 20s for type, two for head, and a total score of 92.83. What I love is that Al Thumama Stud, who have leased him, are just here to enjoy themselves. A great attitude.
12.59pm: Why does the internet go when the show gets the most exciting! Wow! Right, head on over to The Arabian Magazine Facebook page to see Sultan and Alihandro's entrance. Sultan is now in the ring and he put on a brilliant show. So exciting to see him – and to see what will happen next!
12.48pm: I know that I would not like to have a horse in this class. It is surely the biggest class in the show in terms of dynamite entries. Everyone is waited with baited breath to cheer for their favourite.
12.43pm: Bare with, the Internet has gone down here! What an opening class though, I have just had goosebumps! After a long wait as a horse had a broken head collar, Sultan Al Zobara made his way into the ring. He looked amazing! And then, EKS Alihandro followed him in; I am uploading a video to Facebook as else speak so you can see for yourselves. Slightly unsportingly, the hander ran Alihandro straight behind Sultan and almost into him. We all know that there is a lot at stake but there is not need, surely, to resort to tactics like that.
12.29pm: Now they are in – not sure what the delay was, the announcer said that they had only just come in, so who knows? Al Nadir scored 90.67 and takes fourth place.
12.27pm: Well, Gallardo J is in the ring for the best head trophy – no consolation prizes here – but we have no scores for Al Nadir. He really did fly around the ring, so I will give him 19.5s for movement!
12.23pm: Ghazwan Al Jassimya has gone into second place with 92 points. So it currently is Gallardo J, Ghazwan Al Jassimya, and then Falah Al Shaqab. Al Shaqab aren't having a very good show this time; no reflection on the horses that they have but more on the quality of Arabian horses forward. Just the way that it should be for Paris!
12.22pm: The last horse in this class is now showing, that is Al Nadir (Ajman Monisicone x Alo Dafina). I have to say, this really is a quality class and all five colts have shown themselves beautifully.
12.18pm: Ghazwan Al Jassimya (MarwanAl Shaqab x Athina El Jamaal)has just raised the roof – Falah's scores are coming up… They don't look as high as Gallardo. I think Gallardo has it still.. Yes, Falah Al Shaqab scores 91.92 and goes into second place. Will Ghazwan cause an upset?
12.13pm: Falah Al Shaqab is now in the ring. I can't help wondering – has Gallardo done enough? When Falah turns it on, he really turns it on, and he is looking good today.
12.11pm: Now for the Gallardo scores… Five 20s for type, and one 19 – not sure about that one! 19.5 for head, and one 19…. Great leg scores, five 16s and one 16.4. 92.83 total!
12.10pm: Mansour Al Jalawiyah (Emerald J x Gypsy Love NA) is now in the ring, another super colt. Emerald J is certainly making is mark as a sire!
12.07pm: Gallardo J is the first horse to show in this class and he is currently making his way around the show-ring. He has already done so much at just three years of age, and it would be so special if the fairytale came true for him, that of a Triple Crown.
12.05pm: Here he is, Luigi!

11.57am: I have to say, the atmosphere is much better today. Everyone is much more engaged with what is going on in the show-ring, and I am not surpised. There have been some phenomenal colts this morning.
11.56am: This next class is going to be interesting, actually. Falah Al Shaqab (Fadi Al Shaqab x Joseph Just Emotion) is also entered, the current Vegas Gold Junior Male Champion.
11.51am: Amaar Al Nasser goes into second place with 91.17 points. Luigi is called in as both the class winner and the best head trophy winner. Next is the second class of junior males, with Gallardo J (Emerald J x Gomera J) all set to take one step closer to the illustrious Triple Crown title.
11.48am: That was the last horse in this class. The current standings are Luigi, 93.42; Tchaata Iniziato (Inizio x Avalon Just Mywenn), 90.83; Masoun Al Adeyat (Ajman Monisicone x Marayah OS), 90.75; and R'Adjah de Cartherey (QR Marc x Badi'ad de Catherey), 90.25.
11.46am: Amaar Al Nasser is now in the ring, a son of EKS Alihandro – who we will see later, is anyone excited?! – and out of Remal Al Nasser. Bred andowned by Al Nasser Stud in Qatar, this young colt has quite a following. However, I think that it is safe to say that this class is Luigi's…
11.35am: The qualifiers for the Yearling Male World Championship are:
Al Picasso
Avalone Saphir de Lune
D Seraj
EOS Apollo
Jaal Al Jassimya
Imhotep Rach
Mansour AM
Pharoah HBV
ROE Adham

11.34am: Luigi has scored four 20s for type, one for head, and two for movement – another great score and he is in the lead with 93.42 points!
11.31am: I don't think that Luigi could have done anymore than was asked of him. Sired by Kanz Albidayer and out of Lolita, his incredibly showy bay was bred by Danielle Salens in Belgium and is owned by Al Shahania Stud from Qatar. Now it is time to wait for the scores.
11.27am: Right, Luigi is in the ring now! I have just been down to look at him close up and he really is a super colt. He is also putting on a terrific show and the crowd are loving seeing him!
11.22am D Seraj with the proud owners and breeders- Dubai Arabian Stud. He really is a super yearling colt and already a multiple-champion this year. I somehow think that he will be winning another title tomorrow, that of Gold Yearling Male World Champion.

11.07am And the final score comes in for D Seraj (Fa Al Rasheem x Lady Veronica) – and he takes the class with 93.58 points. D Seraj is owned and bred by the Dubai Arabian Stud and shown by Paolo Cappecci.
11.03am The second class of yearling colts is well under way with five horses forward of the seven entered.
10.46am Mansour AM shown very successfully to win the first class.

10.30am The last horse in the class – Mansour AM (EKS Alihandro x Abha Palma) – has taken the class with 91.25points. – bred and owned by Al Mohamadia Stud.
10.19am There's the first score of the day – 90.25 for ROE Adham (ROE Lateef xROE Ameera) with Mark Gamlin on the lead rein.
10.05am: The first of class of yearling colts is now in the arena and there are just five forward of the six entered.
10am: The music is starting and it is almost time for the show to begin!


9.58am: Good morning everyone!
We hope that you slept well and are ready to go today. I have had some lovely feedback from those reading and enjoying this feed, so thank you all for taking the time to write in.
Today is all about the stallions and the colts – there are going to be some dynamic battles taking place in the show-ring today and we are all excited to see them.
The internet is working better today so hopefully, we will have some video to share with you soon. For now, fill up your coffee cups and let the show begin!
FRIDAY 25 NOVEMBER
2.36PM: More later – thanks again to GS Arabians International for their sponsorship, and to Marilyn Sweet for the speedy images!

2.34PM: Also below, we have Wieza Marc'A and Aja Europa, with Alexandra Cibois.



2.33PM: Here she is, the beautiful Tehama Ballalina.

2.27PM: That is the classes over for today. In just a few moments, we will have more photos for you, and later today, video exerts from the day. There is still much more to come and report on today!
2.21PM: Sunday's Top Ten Senior Female line up is as follows:
Aja Europa
Aura EA
Bint Al Shamal
Donna Molta Bella SRA
Emmona
Fahera
L Farahdiba
Majeedah CF
Tehama Ballalina
Wieza Marc'A
2.19PM: Finally, here we go. Aura EA scores 91.83, putting her in fourth with Bint Al Shamal and L Farahdiba down to fifth and sixth respectively.
2.16PM: Emmona's score included two 20s for movement. The last horse we are now waiting for the scores of is Aura EA (Khidar x Arabeska), bred by Equus Arabians in Spain and owned by Alkonooz Arabians in Kuwait. As it stands, the placings are Tehama Ballalina, Fahera, Emmona, Bint Al Shamal and L Farahdiba.
2.15PM: Emmona scores 92 points! She is into third!
2.14PM: Emmona gets…
2.13PM: Here we go. Emmona gets…
2.11PM: What is Emmona going to do? Tehama Ballalina has the win with Fahera currently in second and Bint Al Shamal third. Never underestimate the Polish mares on the points system, that is all I will say for now!
2.08PM: Bint Al Shamal (Koronec x Thee Cover Girl) has just gone into third place. Tehama Ballalina's scores are coming in – four 20s for type, three for head, and one for movement. She is the new leader – and class winner, too, I would venture – with 93.67 points. We can expect another wonderful show down between her and Donna Molta Bella SRA on Sunday. In Aachen, it went Ballalina's way, but as we all know, each show day is another day, and both are beautiuful mares. It will be great to see them competing against each other again.
2.07PM: Ah, Emmona! A Michalow-owned and bred Monogramm daughter out of Emilda by Parmir. She always shows, and at 18 years of age, she is the oldest mare in the show. We do love to see her, and the crowd reaction said it all.
2.04PM: Tehama Ballalina (Tehama Na Disaqa x JJ Shai Majestic Queen) has just done a beautiful show around the arena. She is the current All Nations' Cup Senior Female Champion and this fleabitten grey grows more magnificent every year. Bred in Zimbabwe by L Ferguson, she is owned by Al Zobair Stud from Sharjah, and she will surely win the class here.
1.57PM: L Farahdiba goes into second place with 91.08.
1.56PM: I don't know what is going on, but the atmosphere really isn't here today. Even Donna Molta Bella SRA was not enough to really get the audience going. Let's hope for more energy tomorrow, in and out of the ring!
1.54PM: One of the joys of Paris is that you get to see the French horses that have been showing so well this year. Now in we have Bleunin Milan Avel, bred by Marie-Claude le Bivic and owned by Nunki Arabians,
1.52PM: L Farahdiba (WH Justice x Feemi) is now in. I do love this mare – both she and Fahera are of very similar type and quality, and they are always great to watch. Bred by RB Arabians in Israel, L Farahdiba is owned by Lonhult Arabstuteri in Sweden.Oh – Fahera has scored 92,33, a very strong start, and she deservedly earned a 20 for movement.
1.48PM: Okay, this is a beautiful class. There are eight forward, and in first is the lovely mare, Fahera (TS Apolo x Epy), bred in Italy by Vito Lo Giudice and owned by Al Shiraa Arabians of the United Arab Emirates. We then have L Farahdiba, Bleunin Milan Avel, Pandoraah, Bint Al Shamal, Tehama Ballalina, Emmona, and Aura EA.
1.46PM: Here she is, Donna Molta Bella SRA.

1.36PM: We have nine entries for the last class of the day – I am not sure how many will be forward, but there are some gorgeous mares entered. Of course, one entry – CR Jasmeenah (WH Justice x Fforget Me Not) – goes straight through to the Senior Female Championship on Sunday as she has qualified for the Platinum title. She was bred in the UK by Carole Ratcliffe and is owned by Aljassimya Farm.
1.32PM: As anticipated, Donna Molta Bella SRA has won this class with a huge score, essentially leaving everyone else in her wake. It will be interesting to see who wins the next class, and with what score. Wieza Marc'A is second, Aja Europa third, Majeedah CF fourth, Fer Lisaline fifth, with 90.83, and D Shams sixth.
1.29PM: Right. Fer Lisaline's score was shown so briefly that no one has it. Majeedah CF has scored 91.33, while Wieza Marc'A (QR Marc x Wieza Marzen) has just jumped into second placewith 91.67 points, helped, now doubt, by her brilliant movement. Bred at the Michalow State Stud, she is owned by Sinus Arabians from Sweden, and they will be delighted with this terrific result.
1.24PM: I have just realised that I haven't worked out who the World Top Ten Junior Female contenders are for Sunday – here we go:
Bint Hazy Al Khalediah
Bint Seducton HBV
Elle Flamenca
Farah Al Shaqab
Galerida
Jayda Alrabi
Mai Aljassimya
Malikat Al Moluk
Mozn Albidayer
and either Carmine Al Khaled or Pustynia Kahila to complete the group; they have the same score, and it will come down to the higher type, which no one has to hand right now.
1.21PM: Aja Europa goes into second place with 91.5. Majeedah CF (WH Justice x Maharani CF) is in the ring now, an incredibly showy bay who has already been winning titles this year.
1.17PM: D Shams scored 89.5 points and I suspect that she will finished last. Fer Lisaline (Gualk Ghorki x Mirija Al Shaqab) is showing now. Owned by Javier Fernandez, he is shown by Jesse Swaenepoel, who at 21 years of age, has a great future ahead of him as a professional trainer should he choose to go down that route. Jesse truly is a real horseman, and the care and dedication that he puts into his horses – as a groom and a handler – is clear to see. He really bonds with them, and it is great to see him having the chance to show on a stage such as this.
1.14PM: Aja Europa (Aja Justified x HB Marais) is now showing, bred by Aja Arabians and owned by the Royal Cavalry of Oman. I do love this mare, so feminine and ethereal. She was the 2012 European Yearling Filly Champion and she made her return to the show-ring at the European Championships last month.
1.12PM: We are waiting for her scores, while D Shams (Royal Colours x Nefertarji) shows for Asayel Stud. The scores are coming in – straight 20s for type, two for head, and three for movement! 93.92 is her score, the highest of the show so far.
1.10PM: Yes, Donna Molta Bella is full of herself today! She has just put on a terrific individual show and is now leaving the arena. Hot off Marilyn Sweet's camera is a photo of the winner of the last class, Bint Hazy Al Khalediah.


1.05PM: There are a lot of entries missing in this first class but the quality is definitely there. As well as Donna Molta Bella, there is Aja Europa, Majeedah CF and the big-moving Wieza Marc'A. Time to show, Donna!
1.02PM: A few people are commenting on the atmosphere – I am not sure why it has dropped off so suddenly. Normally, with the mare classes about to start, people are reaching a high level of excitement. Still, it is Friday, normally the quietest day. Donna Molta Bella SRA (DA Valentino x RD Fabreanna) is about to show and if she turns it on like she can, then it will definitely raise the roof. And here she is!
12.55PM: The top six in this class are Bint Hazy Al Khalediah, Elle Flamenca – who also won best head – Galerida, Farah Al Shaqab, Nihal (Shanghai EA x GS Libera), and Pustynia Khalia. These results are certainly not what many of the owners were hoping for!
12.54PM: Bint Hazy Al Khalediah has won the class! Farah Al Shaqab only managed 91.17 points, and there was no reaction at all in the arena when the score was read out. I think Pitonisa not showing has thrown everyone.
12.52PM: We are still waiting for Farah Al Shaqab's scores…
12.47PM: Well, that had everyone looking at their catalogues! It is now straight on to the very lovely Farah Al Shaqab (Al Adeed Al Shaqab x SWF Valencia), the last horse in the junior section. One can't help feeling disappointed, and I am sure that Albidayer Stud are too. Such is Paris…! A real shame not to see her though.
12.45PM: Pustynia Khalia (Kahil Al Shaqab x Pustynna Malwaa) scored 90.5; Pitonisa AS is in next, and I am curious to see her again…
12.42PM: We have a new leader the the class, the El Palacio VO daughter, Bint Hazy Al Khalediah (ex Hazy Al Khalediah), now owned byAl; Khashab Stud. She scored 92.58 points, and this is a filly that obviously does well when she stands in front of the judges. She is consisently in the line up everywhere she goes.
12.40PM: The lovely Michalow filly, Galerdia (Shangai EA x Galalea) has just gone into second place with 91.58 points. Stablemate Pustynia Khalia is now in the ring.
12.35PM: It is odd, the atmosphere has suddenly dropped a notch after that last class. I am not sure if it is because the food has arrived on the VIP tables or if it is because people are still digesting the results. Either way, there isn't the level of excitement – yet. Here's a photo of the exotic Mozn Albidayer meantime…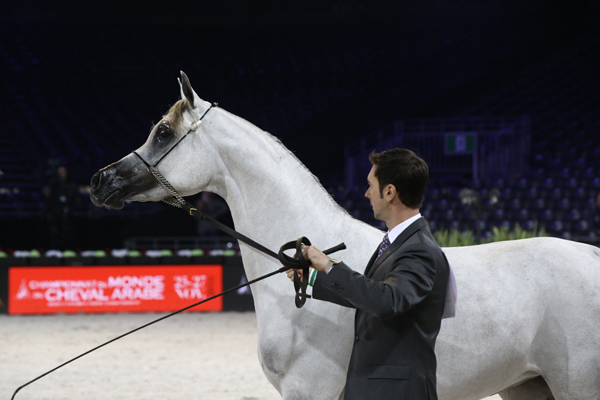 12.30PM: We have the scores for the first filly in this second section, Elle Flamenca (Ajman Moniscione x Allamara MA), brefd by Markelle Arabians in the US and owned by Dubai Stud. She scored 92.08 points, setting the standard for this dynamic class.
12.28PM: Here she is – Mai Aljassimya…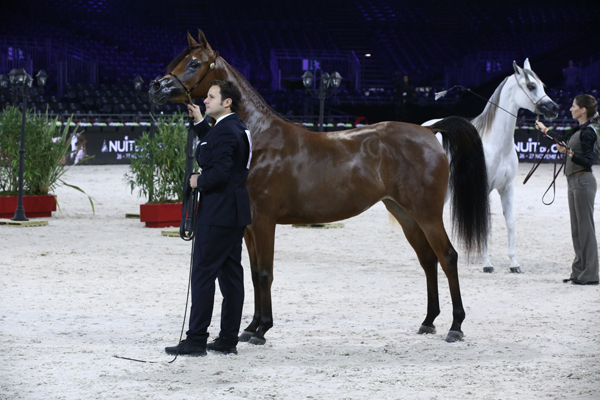 12.10PM: Looking ahead to the next class, we have some big names forward – Elle Flamenca, a Vegas and Nations' Cup Champion; Bint Hazy Al Khaleidah, a regular in the medal spots at shows across Europe and the Middle East; Pustynia Kahila, a Yearling World Champion among other prizes; Pitonisa AS, the newly-crowned US National Futurity Filly and Scottsdale Champion; and Farah Al Shaqab, who took Gold in the El Jadida Salon du Cheval in Morocco last month, among her titles. Definitely a class to look foward to, so go and refill your coffee cup and we will see you back here in a couple of minutes. Sadly, Pitonisa was scratched from the class – we will have to wait until next year to see her!
12.08PM: We have the results of this amazing class, and Mai Aljassimya won in some style with 92.83 points. Mozn Albidayer is second, Malikat Al Moluk is third, Jayda Alarabi is fourth, Bint Seduction HBV is fifth, with the last place in the line up going to Carmine Al Khaled, Mozn Albidayer gets the consolation prize of Best Head.
12.05PM: The winners' rosettes.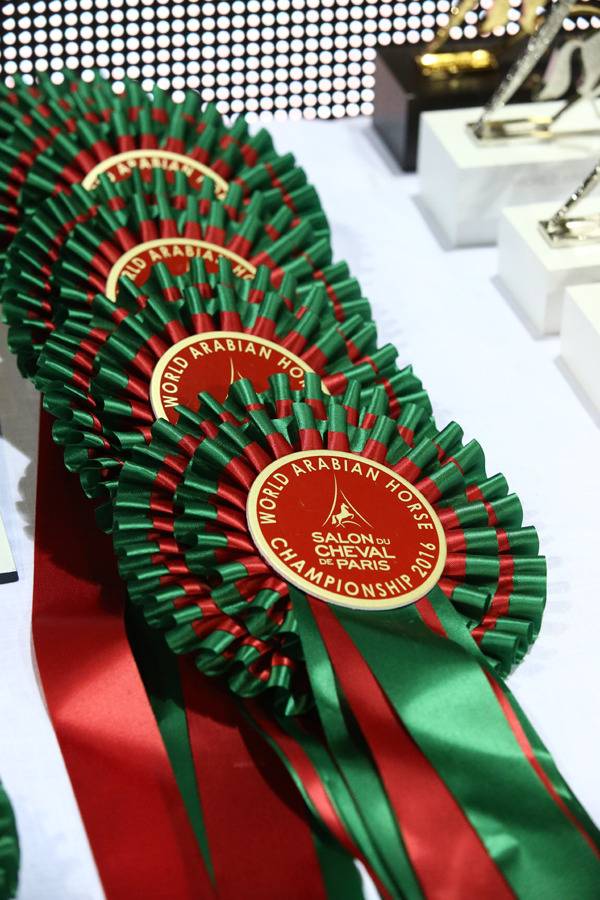 12.04PM: Jayda Alarabi goes into fourth place with a score of 91.67.
12.02PM: Two hours into the show and we are approaching the halfway point in the classes,. Jayda Alarabi (Majd Alrabi x Shatha Al Rabi) just showed for Al Thumama Stud, and the last filly of this class is now showing off in the arena – Carmine Al Khaled (Glorious Apal x Cosmopolitan J), for Al Khaled Farm.
11.59AM: Malikat Al Moluk has gone into third place with 91.92 points. She was Silver Junior Female Champion in Aachen at the All Nations' Cup, but the classes here are so incredibly strong. This very pretty grey is owned by Al Khashab Stud from Kuwait and was bred by Khader Halawa from Israel.
11.56AM: There we are, Mozn Albidayer has gone into second place. Mai Aljassimya remains in the lead. Bint Seduction HBV (WH Justice x Seduction HBV) scored 90.92 points for Alsayed Stud and is currently in third place.
11.55AM: Here we go… One 20 for type, three for head… And a total score of 92.42!
11.53AM: Malikat Al Moluk (Mameluk x Asalat Al Hala) is now in the ring, and we are waiting for the scores for Mozn Albdidayer…
11.50AM: And here she is, Miss Mozn Albidayer. It is no exaggeration to say that this filly firmly put SMA Magic One on the map as a sire of note, and she has won countless titles over three continents, in spite of only being two years of age. These include Gold at the 2015 Dubai International Arabian Horse Championships, Gold at the Arabian Breeders' World Cup in Las Vegas, and US National Champion Filly. She really does look wonderful and it is good to see here back here once more.
11.47AM: Well, Mai Aljassimya has certainly set the bar! 92.83 points, with Mozn Albidayer next to show…
11.46AM: And here she is, the high-point yearling filly, D Ajayeb!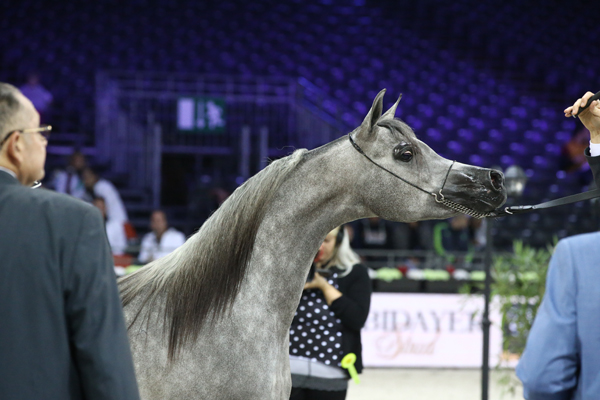 11.37AM: Three are missing from this class, so first to show is Mai Aljassimya (FA El Rasheem x RP Miss Surprise), owned and bred by Aljassimya Farm. I am very curious to see this filly, having seen so much online about her.
11.33AM: Now for the first of the junior female classes. Mozn Albidayer is in this class, having been Bronze Yearling Filly World Champion last year and she is now back in Europe having conquered America. This is a really strong class, and Mozn is just walking in now. She looks amazing – so refined, so elegant, so beautiful. She has that wonderful attitude and knows that she is the best in the class. And what a class this is…!
11.25AM: In the shake down for the World Top Ten, all six from the first yearling filly class are through, with the top four from the second section. The Yearling Filly World Top Ten is:
Aja Caprice
Anwar Al Shahania
Aria Al Baydaa
Belladonna AT
D Ajayeb
Durah Al Hawajer
Emanolla
HDM Maria Apal
Loulou Al Nasser
Madinat Al Baydaa
11.24AM: The results of this second yearling filly class are as follows – D Ajayeb, Belladonna AT, Loulou Al Nasser, Durah Al Hawajer, TF Venezia, and Esmaelia Al Havan.
11.21AM: Oh my word! D Ajayeb scored 93.58points! Five 20s for type, straight 20s for head, and one for movement! I am not sure that I have ever seen such a high score before with a yearling filly… She certainly is an expressive and showy grey. I think it is fair to say that the game is on for Sunday's Yearling Filly Championship. I would think that it will be between HDM Maria Apal, Belladonna AT and D Ajayeb, but never count out Loulou Al Nasser, or the lovely Shahania filly. It certainly will be a beautiful championship, with many worthy winners forward.
11.20AM: While we wait for the scores, here are some shots of the arena decoration!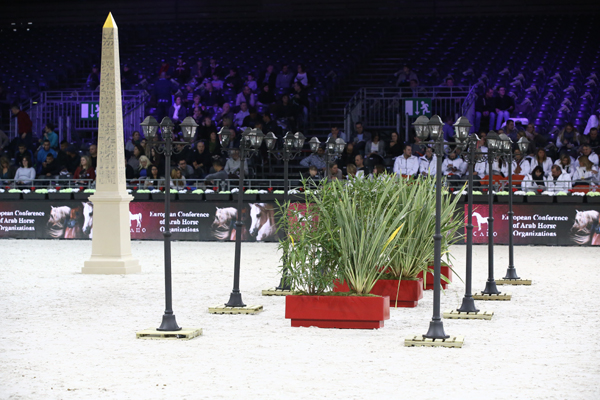 11.18AM: Loulou Al Nasser has gone into second place with 92 points! She did earn one 20 for movement. The class is now over, and we wait fo D Ajayeb's score.
11.15AM: The current scores are TF Venezia (Khail Al Shaqab x Latiffa) with 90.33 points; Esmaelia Al Hevan (Emerald J x Ekisma Al Hevan) with 90.08, and Durah Al Hawajer (FA El Shahwan x Gloryanna) with 90.92. Now showing is the first entry from the Dubai Stud, D Ajayeb (RFI Farid x Ladi Veronika). Meanwhile, we wait for Loulou Al Nasser's scores.
11.11AM: The scores are coming in thick and fast and now showing is the lovely Loulou Al Nasser (RFI Farid x Rihab Al Nasser), owned and bred by Al Nasser Stud in Qatar. She is a firm favourite at The Arabian Magazine and she certainly trotted her socks off!
11.04AM: Tarfah Athbah scored 89.92 points .
11.01AM: Well, that set he tone for the class! Belladonna Belladonna AT has just scored 92.75 points! The highest of the show so far and not only did her score include 20s for type, it also included one for movement! Way to go Al Thumama!
10.59AM: I rather like this filly, too – Tarfah Athbah (EKS Alihandro x Ermina) for Athbah Stud.
10.57AM: Thanks to Marilyn Sweet, we do have real-time photographs from the show, and will be sharing more as the day goes on. Now, though, we are on to the second yearling filly class and the lovely Belladonna AT (Wadee Al Shaqab x Om El Bellatrix) is now showing for Al Thumama Stud. A very popular filly, and she is such a showy bay that it is easy to see why.
10.54AM: Here she is, the first winner in Paris 2016! HDM Maria Apal with HH Sheikh Ammar.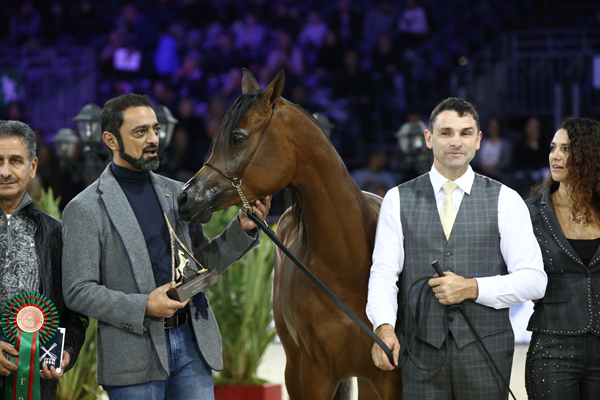 10.45AM: Well, that was a truly beautiful class to open the show with!
10.41AM: The Best Head is being presented – I still think that we should be rewarding movement and true Arabian type rather than this fashion for beauty. I hate that people outside the breed refer to these shows as a 'beauty contest', thus demeaning the Arabian horse to nothing more than a pretty face with no form or function. Anyway, I digress.. Madinat Al Baydaa deservedly won this trophy, and she takes third place in the end with HDM Maria Apal winning, Anwar Al Shahania second, Madinat Al Baydaa third, Aja Caprice fourth, Aria Al Baydaa fifth and Emanolla sixth. The scores in the next class will decide the World Top Ten.
10.38AM She has done it! 92.17 points! She had two 20s for type and one for head. One judge seems to be much lower on the movement marks, especially, than the others but as long as they are consistent, no one minds. We have our first winner, HDM Maria Apal. Congratulations to her owner HH Sheikh Ammar of the Ajman Stud, and her breed Eleonore Martens from Belgium.
10.36AM: Emanolla's scores are going up. I remeber seeing her as as foal at Michalow and she was just beautiful. Her movement scores just ranged from 19.5 to 18… Okay! Anyway, this little beauty scored 90.58 points. Now we wait for HDM Maria Apal's score – she has 91.75 to beat to win this class.
10.34AM: HDM Maria Apal is in the ring. I do love this filly – so elegant and refined. We will have video and photo for you shortly…
10.31AM: Yes, Anwar Al Shahania has moved into joint first with Madinat Al Baydaa, with 91.75. It will be down to the type score to split these fillies and, they flew up on the screen so quickly that they were easy to miss. We will have to wait to the of the class to see where they come. Meanwhile, we have 20s going up for Aria Al Baydaa (Ajman Moniscione x RA Marwans Elygance). Two for head, and she scores 90.92 for her owners Premier Breeders LLC. She was bred by Al Baydaa Stud of Egypt.
10.28AM: The music here is good – having a little bop while we watch the horses! The scores are now in for Jameelah Al Adeyat (Fadi Al Shaqab x Juvita), owned and bred by the Royal Cavalry of Oman. She received 89.75 points. The very lovely Anwar Al Shahania (Kahil Al Shaqab x Sierra Tango TT) was just shown, an eye-catching bay. I wonder if she willk be up among the leaders? The first of the Polish entries ins now in the ring, the Michalow-bred Emanolla (Vitorio TO x Emandoria). What's not to love about this showy filly!
10.24AM: Aja Caprice scored five times 19.5 to take the current second place with 91 points. She is owned and bred by Aja Arabians of the UK.
10.22AM:
Today is, of course, Black Friday, so we have a once in a lifetime offer for a subscription to
The Arabian Breeders' Magazine
– 50% off! I know that many of you have already taken advantage of this, but if you haven't, head over to
www.thearabianmagazineshop.com
and enter the code FRIDAY50 when you check out…
10.21AM: Sarrah Aljassimya scores 89.5.
10.20AM: Of course, those who enjoyed our live commentary from the European Championships will know that HDM Maria Apal took the Gold Yearling Filly Championship, with Aja Caprice in Silver. I wonder if they will repeat that success here? It really is incredible competition.
10.17AM: Well, we have our first 20s of the show already! From my view in the galley, Madinat Al Baydaa looked like a very pretty, feminine filly but of course, unless you are standing in the front row or right in front of her, you have to trust your eyes. However, it looks like her beauty truly shone around the arena as she scored two 20s for head, as well as a 19.5 for type, to open the show with a great score of 91.75 points. Now in is the lovely Aja Caprice (EKS Alihandro x Aja Carina).
10.13AM: Madinat Al Baydaa is bred by Al Baydaa Stud and is owned by Ahmed Fathy Al Talawy of Egypt. Opening a show such as this is no small feat and she showed well. We are waiitng for her scores while the first of the Aljassimya Farm contenders is in the ring, Sarrah Aljassimya (Kahil Al Shaqab x LC Primavera).
10.10AM: The arena looks lovely this year – no Eiffel Tower, I think that they bring this out for Championship day – so we have what looks like Cleopatra's Needle instead, with a little line of trees and street lights; think le Champe Elysee and you will be there. All the fillies are forward apart from Elizia Alfabia. I do think that our winner will be in this section though – the exquiste and feminine HDM Maria Apal (RFI Farid x WW Imania-Apal). The first horse to be judged is about to come in, Madinat Al Baydaa (RFI Farid x TS Madeleine).
10.05AM: The yearling fillies are now making their way into the arena. The quality of these yearling classes, plus that of the fillies, is just astounding and I think that the judges are going to have their work cut out in picking the very, very best from the very best. We have nine yearlings in this first class – let the show begin!
10AM: We are live!
THURSDAY 24 NOVEMBER
7.30PM: The last post for today – I have been up since 2am and I am afraid I am rather tired – but I have to finish with a wonderful preview for tomorrow. A very special filly will be showing, Pitonisa AS (Ever After NA x Psyches Amber Dream). I have seen this filly showing in USA over the past two years – first in Scottsdale 2015, where she was Champion – and then in Vegas that same year, where she was Reserve Champion. This year, she was again Champion in Scottsdale and when went on to become US National Futurity Champion, now under the ownership of Albidayer Stud from Sharjah, United Arab Emirates. Pitonisa really is a very special filly, and Sandro Pinha has come over from the USA to show her. Bred in the Middle East, this exquisite bay is returning to her routes, and this World Championship debut in Paris tomorrow will be very special indeed. The show starts at 10am (GMT +1) – make sure you tune in for the live relay from this illustrious show!
6.20pm: Finally, a moment to organise the thoughts and comment on what has been happening. The stage is very definitely set and it looks like being a great show. The catalogue shows that the entries are very strong indeed, and I know that I am excited to see what comes.
For me, though, there is nothing more special than a double World Champion – that extremely unique Arabian horse that can win both as a junior and a senior, and do it all. There have been very few that have achieved this double, but the supremely elegant Nadjah Al Zobair is one. Sired by Marwan Al Shaqab x JFN Bint Ludhan, this incredible bay filly took the Gold Junior Female Championship in 2009. Bred and owned by Al Zobair Stud in Sharjah – one of the most beautiful farms that I have visited – this beautiful mare took the title again in 2014, once more led by Tom Schoukens. Please enjoy this video – this really is a very special mare and she was the first homebred World Champion for the United Arab Emirates. This mare is loved by so many – and is also Scottsdale Champion, Arabian Breeders' World Cup Champion, and US National Reserve Champion – and it is so easy to see why. We give you that moment in time, Najdah Al Zobair, Gold Senior Female World Champion in 2014!
6.30am: Well, we are on the road to Paris! It is a windy but very mild morning here in the UK and we left 30 minutes ago, with 350 miles to cover.
The excitement about this show is definitely mounting. We know that there are two very special