Owning and competing horses has its ups and downs, and July 2018 was no exception. Between a short-lived winning streak, a horse injury and a momentous occasion, July was certainly an interesting month for Avonbrook Stud.
It all began at the David Broome Event Centre in Wales for the Midsummer Festival that welcomed in the new month. As I detailed in last month's blog, poor Avonbrook Odin (Marcus Aurelius x April) – Odin – ended up in the middle of a 120cm oxer and I withdrew him from the rest of the competition after he was, unsurprisingly, a little sore. Although I would not come to realise it until a few days later, my confidence was somewhat rattled and even 90cm proved a challenge for my shredded nerves. With some words of encouragement from my fantastic support network, I was soon up and running again and, with mum taking charge of keeping Odin in top shape with chiropractic treatments, we were back on top form within a couple of weeks.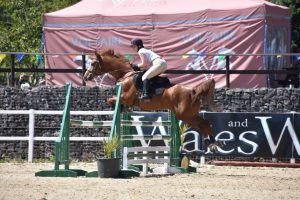 Unfortunately, our newly restored confidence was short lived as, soon afterwards, poor Odin seemingly managed to get cast in his stable and trap his head where he had kicked out the front boards, likely in a desperate struggle to free himself. He had scrapes on his face and head and looked suspiciously like a horse going into shock when he was found, on his feet, in the morning. We had no idea if there was a serious underlying cause and so he went to the vets for 24 hours of observation. Luckily, nothing too serious was going on and his injuries were mostly superficial, except for some swelling over various muscle groups and a lot of 'unwinding' that is still ongoing thanks to mum's chiropractic treatments and some Bowen Therapy as well. It is likely that Odin will be out of action until mid-August, but he is now looking much happier in himself and I am reassured that there was nothing I could have done to prevent or improve the situation.
Ignoring Odin's set back with her usual style, Annia Aurelia (Marcus Aurelius x Bint Zaehaebi) – Penny – excelled herself at the start of the month. On my 19th birthday, Penny and I were lucky enough to have a lesson with showing master Russell Marks to learn the more specific ways of the dark art that is showing. In two sessions, Russell was able to update mine and Penny's way of going to be more in place in a show-ring, and gave my ring-craft skills a thoroughly needed polishing. We were able to put what we had learnt into practice at the North Staffs Summer Show in the Horse of the Year Show (HOYS) mare class on 7 July. Penny went, in my opinion, the best she has ever gone and gave both myself and the judge a smooth and correct ride so I was thrilled with her. Although the result was not what I was hoping for – sixth out of nine – I couldn't have been happier with how she coped and how she performed. I was very excited for the AHS National Championship Show later in the month with Penny, where we had specifically selected classes to let 'her audience' see her without letting her do too many classes, "too much of a good thing" we told her. The Nationals would also have provided us with our best chance of a HOYS ticket as it is the only show where each section winner qualifies rather than the champion, and as it's the centenary year of the Arab Horse Society, it would have been the perfect fairy tale.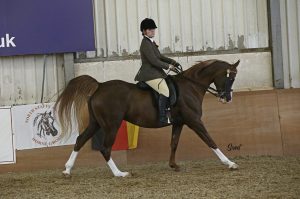 Fairy tales, however, do not exist in Penny's books. We later discovered it was two large haemorrhagic follicles on one ovary that was causing her some real discomfort, but Penny was not her usual self at possibly the most important show of the season. She was rude to the judge in the HOYS mares and was rightly dumped near to the end of the line which was frustrating as I didn't know what was wrong with her, or whether she even had an excuse. We chalked it up to her coming into season, which usually elicits very little change in her behaviour but she had become very friendly with a visiting mare for Marcus which has history for putting her off-balance. Hoping she would be calmer and 'cuddlier' for the second day of the show, we took her for the Crabbet in-hand mares where she was very successfully able to intimidate me with a couple of rears and displays more often seen in the main in-hand ring. The judge must have either liked her or pitied me because, despite Penny's behaviour, we were fifth out of seven – two places higher than I expected – and I decided to bench her for the final day of the show. We had planned to turn her out with her older sister Rosie – Avonbrook Green Rose (Vert Olive x Bint Zaehaebi), and Poppy the Irish pony in a local field – but the crafty girl had timed it so that we couldn't take her away from the visiting mare as she had just been covered and we wanted to keep her happy, which involved keeping her BFF by her side. Penny is now back out of season and going as well as ever, which is a relief but her timing really was unfortunate!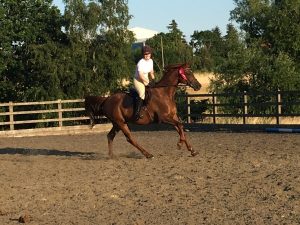 Marcus Aurelius (Aurelian x Fiesta Magica) meanwhile, has had a fantastic month. He started July by mastering Polo within ten minutes of my mallet and arena balls arriving, and grew bored of his latest fad within fifteen! He might find himself travelling to Rugby Polo Club for some lessons when I'm back at Uni again; he was even chasing after the ball and letting me swing the mallet very close to his face with no bother at all. Shortly afterwards, he accompanied one of his more lightly competed sons, Avonbrook Silver Eagle (ex Caveland Calypso), Robbie, to some unaffiliated showjumping at a local competition centre. Robbie, to our great surprise, jumped a fantastic double clear in the 80cm which was fast enough to win against some strong competition. Having thrown down the gauntlet, Marcus showed his class by jumping double clear in a very fast 85cm class – the largest of the evening – beating his closest competition by over two seconds and taking first in convincing style. Marcus then continued the Avonbrook Stud winning streak when we entered him in a 90cm eventer challenge class and produced the sole double clear in a competitive field. Most of the commotion was caused by the penultimate 'cross country' fence, an odd-looking skinny corner that earned Marcus a cheer as he cleared on our first attempt. Flatteringly, we were head-hunted by the hosting riding club which is tempting to shoe-horn in around British Showjumping, Showing, Eventing, and University. I suppose we'll have to see.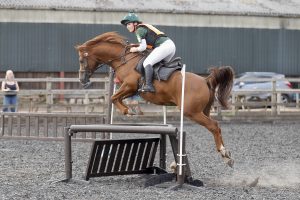 Marcus has also been covering this year's visiting mares and showing his incredible temperament by travelling with his in-season daughter to the AHS National Championships where he returned mum into the showing ring for the first time in well over a decade. He was a little distracted by his demon-spawn's whereabouts when he was in the ring, producing a rather noisy but typically safe performance that saw him finish sixth before having to miss his Crabbet in-hand class to escort the demon-brat-hormonal mess back to the lorry. We decided not to take Penny for the final day of showing and instead took Marcus on his own. Our first class of the day was the ridden pairs, in which Marcus accompanied one of his daughters, PS Aurora Silk (ex Imperial Silk) and Natalie Tindall for second place. The show kindly let us substitute Marcus in for Penny in the intermediate ridden class later in the day. I was so excited to ride Marcus in the show-ring again and he most definitely did not disappoint, even when the heavens opened and lightning flashed during our individual show. Despite his performance, we were placed fifth out of five, which I was disappointed with but, hey – that's showing! He looked amazing and felt incredible. The gorgeous winner of this class then stood Supreme Champion while second place booked an early HOYS ticket, so the competition was impressive. Most importantly, Marcus had a blast and enjoyed himself, but not too much, and saved me from a disappointing Nationals.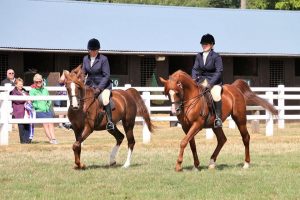 The Super-Sub duties were not over for Marcus after Nationals weekend. After a couple of well-earned days off, he then took over from one of Odin's commitments; a training day with the British Showjumping Area 33 Academy at Weston Lawns. Unlike Odin, I didn't put Marcus forward for team selection – where the teams compete at the BS National Championships in August – which meant a pressure-free day to practice over some fences we'd never seen before at a venue we had never been to before. Marcus was a star all day and caught the attention of the selectors for the 90cm/100cm section which was almost enough to fight with British Showjumping again over whether his NaStA grading and AHS Premium status were 'worthy' enough. Almost.
Another horse who had a great month was Alice – Burwell Bride to Be (Rotherwood State Occasion x Desarbre Folk Song) – who has transitioned from babysitting this year's foals to having her very 'own' children to educate. Alice, our 12.1hh Welsh B dragoness, has moved to the yard of one of our close friends and seems to be having a marvellous time teaching two young children the evil ways of the Welsh pony!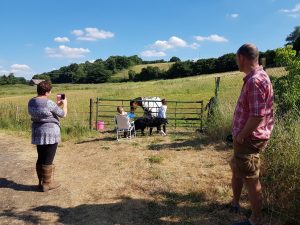 Overall, July was one of those months that showed the balance between elation and frustration, pride and disappointment, hope and despair. Although no lasting damage was done to anyone this month, some long-term goals have been altered and the importance of finding the fun in every situation has been highlighted. Thank you to everyone who came to visit the Avonbrook Stud stand in the AHS marquee at the Nationals and I apologise that it was mostly unmanned. Congratulations to the worthy winners at the AHS Centenary year show, especially to all the connections of Treenhill Aristotle, a super young performance Anglo Arab who went Supreme Champion and I look forward to seeing on the eventing and showjumping circuits. Congratulations also to my sponsor Natalie Tindall of Crabbet Heritage, who had a fabulous week with her two mares and finished Nationals with a Reserve British National Championship in the restricted ridden! It was great to catch up with those who I was able to catch, and I now look onwards and upwards towards the next adventure.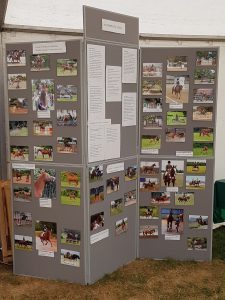 Katherine Bertram is an English young rider who competes in a variety of different disciplines on her mother's homebred pure and part-bred Arabians. Having achieved advanced rider status in Endurance after her first season at age 14 on Marcus Aurelius (Aurelian x Fiesta Magica), Katherine turned her attention to showjumping with his progeny, at which she currently competes at Senior Newcomers (1.10). As well as also delving into showing, eventing and, occasionally, dressage, Katherine juggles her studies while attending the University of Birmingham.