Everyone who has seen Anood al Nasser is enchanted by her beauty. Her regal presence captivates, leaving you spellbound. With her immense beauty, pure Arabian type, and gentle charisma, this majestic mare, a true ethereal Queen, is set to sparkle once more at this week's Paris World Championships.
Anood al Nasser is owned by Akmal Stud, located in the Kingdom of Saudi Arabia. Founded by HRH Prince Abdulmajeed bin Sultan bin Abdulaziz Al Saud, and managed by Fahad Al Ghofaily, Anood al Nasser is an important part of their stud. "We look to the past to breed the future," explains Prince Abdulmajeed. "That is why we are so thankful to Anood's breeders, HH Sheikh Nawaf Bin Nasser Al-Thani of Al Nasser Stud, for letting their exceptional mare join Akmal Stud. She really is a dream come true. She will have her chance to shine in Paris once more, and then we will look to the future with her."
With a high percentage of Egyptian blood, that partly accounts for her beauty, Anood al Nasser is sired by Ashhal al Rayyan (Safir x Ansata Majesta) and out of Aleysha al Nasser (Gazal al Shaqab x Aliah al Nasser). In a very emotional moment, Anood al Nasser was named Gold Senior Female Champion at last year's All Nations' Cup in Aachen, an amazing highlight in a glittering career.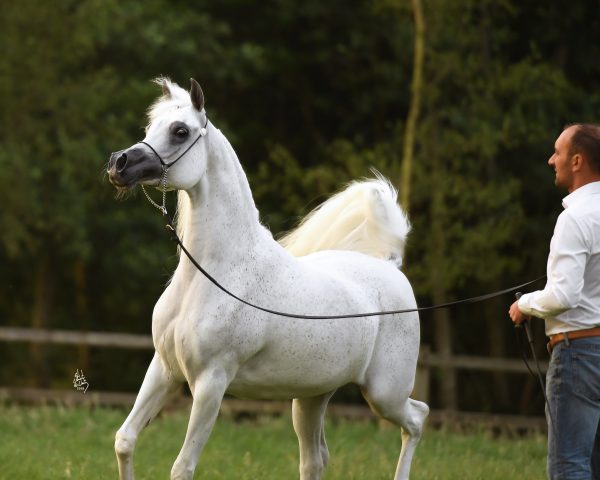 Akmal Stud is a very young stud and Prince Abdulmajeed is the youngest owner in the industry. It is his vision, however, supported by that of Fahad, which makes Akmal Stud so special. This is their first World Championships, and what better mare to debut with than the exceptional Anood al Nasser. "We know that the Paris World Championships is the toughest competition in the world," says Prince Abdulmajeed. "I have followed this show for many years, and the mares in particular have always captivated me. I know that we have an incredible mare with Anood al Nasser, and she will be at the heart of the first Akmal Stud World Championships team. I know it will be an emotional moment to watch her enter the show-ring under our name."
Anood al Nasser will once again be partnered by Glenn Schoukens, who has shown this incredible mare to so many titles across Europe and the Middle East, including the Mediterranean and Arab Championships in Menton this year, where she was Gold Senior Female Champion with awards for Best Arabian Type and Best Movement.
"For us, Anood al Nasser is as flawless as it is possible to be," concludes Prince Abdulmajeed. "We cannot wait to see her shine in the city of lights."