The beautiful and idyllic Hawk's Flight Farm is located on the Gulf Coast of Florida in Sarasota, a place famed for Siesta Key Beach, five-star restaurants, world-class shopping venues. It is here that Karin McMurtrie's unique breeding farm of Arabian horses can be found. Fast approaching 40 years of breeding, the horses of Hawks Flight Farm can be found the world over, and they excel in both halter and performance, as well as in the breeding barn.
Having already been in love with Arabian horses for many years through her stallion Cal Daaba (RS Dalimage x Cal Kristaba), Karin then sought a stallion who would combine athletic ability with Arabian type. Her love for the lines of Ali Jamaal (Ruminaja Ali x Heritage Memory) and El Shaklan (Shaker El Masri x Estopa) led her to the incredible stallion, Amir Jamaal (Ali Jamaal x Luz de Fe by El Shaklan), and the stage was set. What followed was beginning of the Hawks Flight Farm breeding programme in earnest.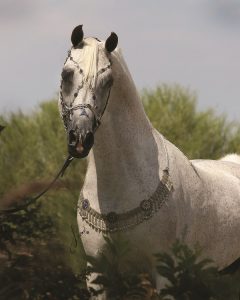 "In 1999, Amir Jamaal's first foals out of my mares were born," recalls Karin. "The first was a grey filly out of GF Exquisite (Mark Al Badi x GF Jabrina), born at sunset. I will never forget the sight of that foal – tiny muzzle, huge eyes, small, well-shaped ears, and a beautiful balanced body; I cried at her perfection and knew that Amir Jamaal was going to be a great breeding stallion for us.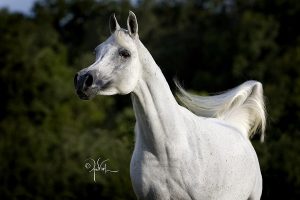 "The second Amir Jamaal daughter was born a few weeks later – out of SA Maleeka, a GF Exquisite daughter sired by Havlin (ex Gomene), an Aladdinn (Nureddin x Lalage) son. She was a stunning bay filly – also with the same characteristics of her half-sister. These two Amir Jamaal daughters, HF Diva Jamaal and HF Amira de Lis, have gone on to produce their own exquisite sons and daughters and are 19 years young here at our farm today."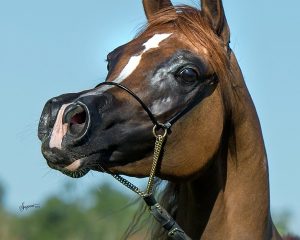 Since that first foal crop, Amir Jamaal proved to be the perfect sire for Karin, and the legacy that she has at the farm today is a testament to that. "While horses from this farm have had much success in the show-ring – at US and Canadian Nationals, the Arabian Breeders' World Cup in Las Vegas, and Scottsdale to name but a few – I think that my key success here at Hawk's Flight Farm is exemplified when people come here for the first time and see our breeding programme," smiles Karin. "We always do a breeding presentation, showing the generations in turn. To see up to four generations of one line, with improvement in each generation, is an amazing feeling. As I watch those horses, and peoples' reaction to them, I feel that I have accomplished something. I guess that something is success. When breeders visiting tell me that they love the beauty, consistency and movement in my breeding programme, that is very humbling."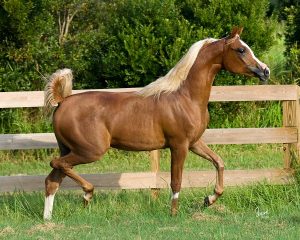 Karin adds: "I breed for beauty and type, but not at the cost of form to function. I want my young halters horses to be able to be put under saddle and have a job, whether in the show-ring, endurance rides, dressage, or as an enjoyable trail horse. Arabians need mental and physical stimulation, and to be able to ride a beautiful Arabian is the icing on the cake for me. So to have international breeders comment as they do on the 'HFF' mares is always incredibly moving."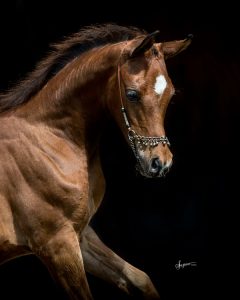 Dark days, however, come for all breeders and one of Karin's darkest was last summer when, on 6 July, she had to have Amir Jamaal put to rest. "Part of my heart and soul went with him," she says. "Not only was Amir the foundation for our breeding programme today, he was also my friend for over twenty years."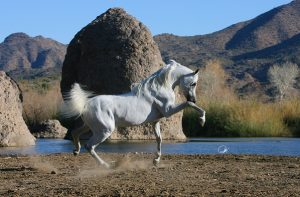 Life, however, goes on, and Karin had already sought a new line to bring fresh blood into the Hawks Flight Farm programme. This was found through Prince Michael MPE, a son of WH Justice (Magnum Psyche x Vona Sher-Renea) and out of the ethereal grey beauty, Thee Rahiba (BJ Thee Mustafa x HMT Farima). On lease from Haras JM in Italy, Karin is eagerly awaiting Prince Michael's first foals – foals that will cross the older lines of Amir Jamaal with the future.
"Prince Michael has given me excitement back as a breeder," says Karin. "After Amir's passing, I wasn't sure how I could carry on but I knew I had to. Michael has given me that hope for the future at Hawks Flight Farm. Our mares expecting Michael foals are Lady Godivaa (Padrons Psyche x Lady Larissa) and her Amir Jamaal daughter, HF Lady Snickers; HF Psyquoia (Psymadre x Shahlimar Bey); and PGN Zimazing Grace (Shah Azim x Midnightemptation). It is a wonderful range of internationally appealing bloodlines.
"Each morning, I walk through my barn and see the Amir Jamaal daughters and granddaughters. Thinking of their coming Prince Michael offspring, I know that all will be well here at Hawk's Flight Farm."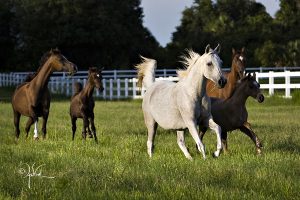 Visit Hawks Flight Farm for more information