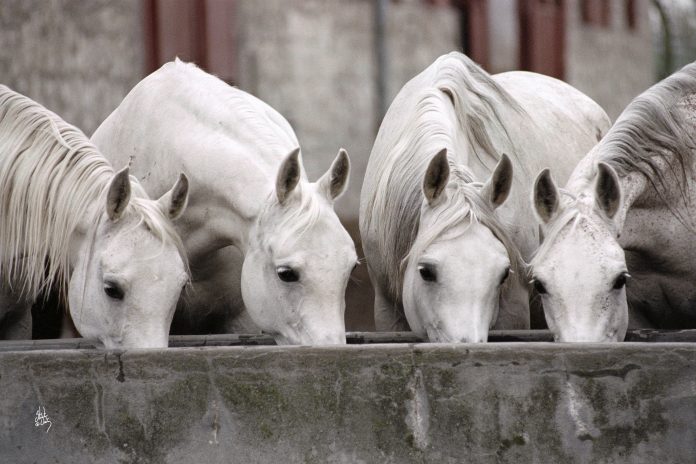 In August 2004, the WAHO Conference was held in Poland at the magnificent State Studs. As part of those memorable days, the event included the 26th Polish National Show held at Janów State Stud on 14 August and it included the best of the purebred Arabian horses from not only the State Studs, but also private breeders. Visitors were able to see horses such as Pianissima (Gazal al Shaqab x Pianosa by Eukaliptus), Perfika (Gazal al Shaqab x Perforacja by Ernal) and Etnologia (Gazal al Shaqab x Etalanta by Europejczyk) in their yearling year. The then two-year old Palanga (Ekstern x Panika by Eukaliptus) stood Reserve Junior Female Champion to Pianissima – a mare who would go on to capture the hearts of breeders the world over. 
Among the mares, Emira (Laheeb x Embra by Monogramm), Emmona (Monogramm x Emilda by Pamir), Pianosa (Eukaliptus x Pinia by Probat), Pilar (Fawor x Pipi by Banat), Emanda (Ecaho x Emanacja by Eukaliptus) and Gaskonia (Probat x Gizela by Palas) are just some of the many famous names to enter the ring. 


Most the of action from the classes has been captured in this video series. The full programme of the 35th Pride of Poland Sale from 15 August, as well as the flood-lit parade of sale horses, is included, as well as the Parades from all three State Studs – Janów, Białka and Michałów.
Also of note is the special WAHO Parade at the Warsaw Racetrack. Look out for group XII – Rodzina klaczy Szamrajówka. The line up is breathtaking – Perfirka, Pilar and her foal Pinga (by Gazal al Shaqab), Pieta (Gazal al Shaqab x Pilar), Palmeta (Ecaho x Pilica by Fawor), Pianosa and, of course, Pianissima. 




Enjoy almost nine hours of footage, captured by The Arabian Magazine, and relive the magic of Poland!
Most of the class results, Parade and Sale Catalogues are here – https://thearabianmagazine.com/wp-content/uploads/Poland04.pdf
Cover image credit Stuart Vesty