Photography Ricard Cunill SiR Photography
The ever-popular Arabian Horse Organization Chantilly Show was held between 2 and 5 August. The show was split into two events – the AHO World Cup and the AHO Breeders' Championships Europe.
The World Cup was held on 2 and 3 August, and were judged by Fahd Al Otaibi, Sylvie Eberhardt, Elyas Farag, Mohamed Zaghloul Omar, Marianne Tengstedt, and Marek Trela.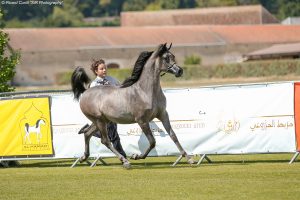 First in were the yearling fillies with Al Ahmadya Arabians taking the win with Israa AH (Wadee Al Shaqab x Zhared Dreamz). The Ajman Stud stood second with AJ Samara (AJ Mardan x Sama AM), while Duchess Amaiyaa DMC (Aja Angelo x Amaliaa) took third for Dawn Cascoe and Malik Morrison. The second section of yearling fillies saw a win for Dubai Arabian Stud with D Rannanah (D Khattaf x Jumilla). The Ajman Stud again stood second, this time with AJ Temaa (AJ Marzan x True Desire LL), while AV Purple Rain (Shiraz de Lafon x AV Dancing Rain), bred by Caroline Reid, took third place.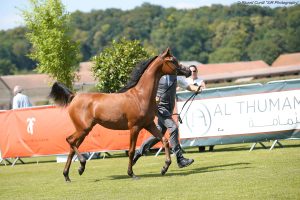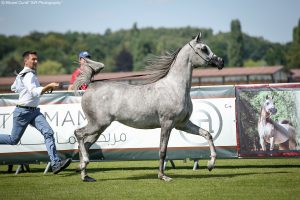 Rshediah Alkhashab (EKS Alihandro x Symphony of Love), bred by Al Khashab Stud, won the first of the two two-year old filly classes, GT Arabians were second with GT Shaharaah (Sharahm x TF Shahraaz), while Caza Al Soor (AJ Fawaz x TCR Rain Dancer) was third for Abdullah Naser Al Khaldi. Al Sakab Stables' Dhai Alsakab (Emerald J x WA Ppriscilla) won the second section ahead of Nemesi Regalis (Ajman Moniscione x Nashira By Chawy NA) for Re Pietro and Felicity Valentine PF (Kahil Al Shaqab x Felisha Valentine BHF) for the North Family Trust.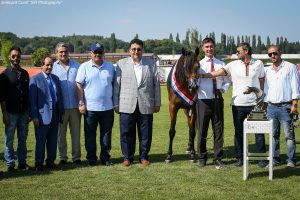 The three-year old filly class was headed by Pristina LD (Vegas DPA x Catalina SF), bred by Jacki Pienta. Jawaher Lemar (Empire x Lanckorona), bred by the Michałów State Stud, stood second, with Fadwa AA (Fadi Al Shaqab x Donya Jamal) in third, bred by Ariela Arabians.
HHC Ali-K (LL Khartoum x LL Alibujaira), bred by Hacienda Chada SA, won the junior mare class. In second was Psyrella (Sharahm x JB Psyderella), bred by Agmal Arabians, with Elle Flamenca (Ajman Moniscione x Allamara MA) third, bred by Markelle Arabians.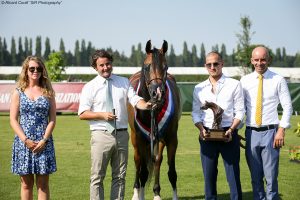 Al Nasser Stud stood top in the senior mare class with Rihab Al Nasser (Marwan Al Shaqab x Remal Al Nasser). Aja Europa (Aja Justified x HB Marais), bred by Aja Arabians, was second with SA Minerva (Royal Colours x Cicilla), bred by Scipioni Angelo, in third.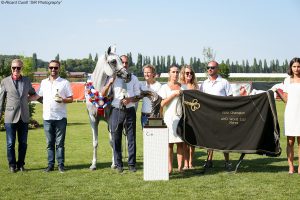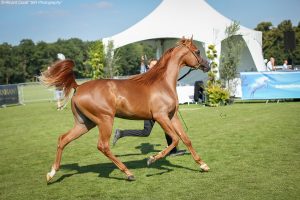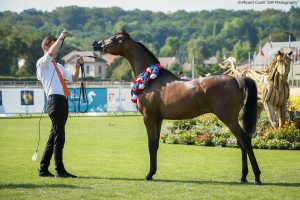 The first of the yearling colt classes was won by Wahaj AT (Morion x Wieza Roz) for Al Thumama Stud. Qutaz Aljassimya (Al Ayal AA x Minwah), bred by Aljassimya Farm, stood second ahead of the Ajman Stud with AJ Eazm (AJ Mardan x Ysadora). Dubai Arabian Stud won the second class with D Asali (FA El Rasheem x Elle Flamenca), with AJ Sanad (AJ Mardan x AJ Sultana) second for the Ajman Stud.
D Shallal (FA El Rasheem x D Shahla) won the two-year colt class ahead of AJ Radman (AJ Mardan x AJ Rahifa). They are bred by Dubai Arabian Stud and the Ajman Stud respectively.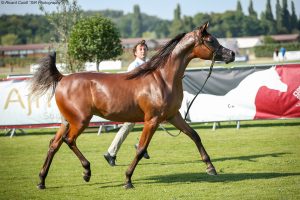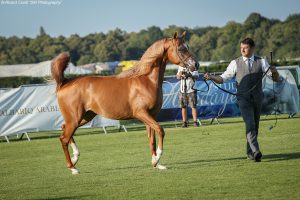 There was just one entry in the three-year old colt class; this was Sultan GK (WW Stivallea x Al Magna), bred by Boaron Kessem.
Aja Wiktor (Emerald J x JB Wizcaya), bred by Aja Arabians, won the junior stallion class ahead of SA Al Zahir (Nader Al Jamal x Al Duqa AA), bred by Shall Ariel.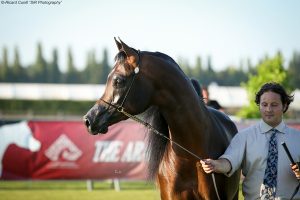 In the senior stallion class, the win went to Knocke Arabians with Equiborn KA (QR Marc x Espadrilla). Standing second was Mahder Al Jamal (Nader Al Jamal x Mahity El Jamaal), bred by Jean Mattens, while in third was Prussia MI (Abha Qatar x Parada), bred by Ambition Investments Pty Ltd.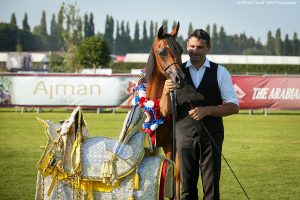 On to the Championships and AJ Samara took the Gold Yearling Female title and also the Best in Show award. D Rannanah placed Silver while JJ Alpha Dana (JJ Aphar x JJ Dalia), who was bred by Haras Mayed and placed fourth in her class, took the Bronze.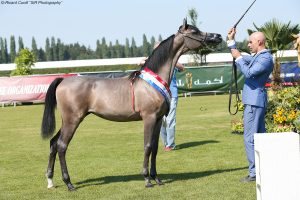 Dhai Alsakab took the Gold Junior Female Championship ahead of Rshediah Alkhashab in Silver. Bronze went to Priscilla OS (Poseidon OS x El Lucina OS) bred by the Osterhof Stud. Again, she placed fourth in her qualifying class.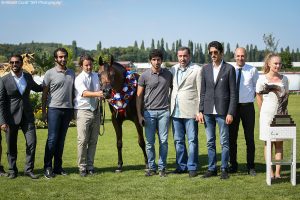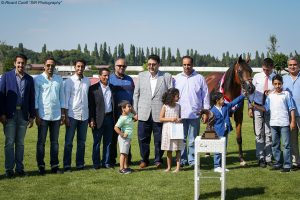 The Gold Senior Female Championship went to Rihab Al Nasser with Aja Europa in Silver. HHC Ali-K took the Bronze medal.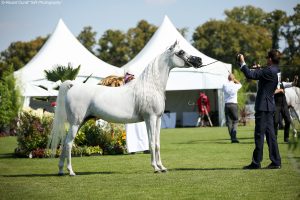 On to the Yearling Male Championship and Wahaj AT took the Gold with Qutuz Aljassimya in Silver and D Asali in Bronze.
D Shallal was named Gold Junior Male Champion ahead of AJ Radman in Silver and Sultan GK in Bronze.
The final championship was the Senior Male, and Equiborn KA took the Gold. Mahder Al Jamal was awarded the Silver title, while Aja Wiktor placed Bronze.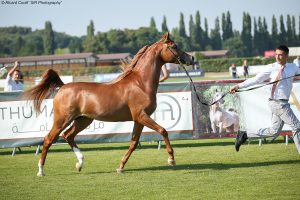 Find out more about the Arabian Horse Organization at www.ahosite.org.