This Throwback Thursday, we are celebrating a truly amazing mare. Embra was foaled at Michałów State Stud on Poland in 1995, a daughter of the great, huge-moving chestnut stallion Monogramm (Negatraz x Mongramma), whose influence at the Polish State Studs was only surpassed by that of Gazal al Shaqab (Anaza el Farid x Kajora). Embra's dam was the elegant mare, Emilda (Pamir x Emanacja), a granddaughter of one of the most influential Polish mares of our time, Emigracja (Palas x Emisja).
Embra was a regular in the winner's circle while in Poland and she was also a dam of significance at Michałów. Of particular note is her daughter Emira (by Laheeb) and son, El Omari (by Enzo), both of whom would be named Best in Show at the Polish National Championships, with Emira going on to great international acclaim with her new owners, Al Thumama Stud of Qatar.
In 2009, Embra was was leased by oOne Hennessey Partners in Ocala, Florida, for three years. With them came perhaps her greatest moment, as shown in this photograph, as with the partners, she went to the Arabian Breeders' World Cup in Las Vegas and won the broodmare class in some style. I still remember her, flying around the arena with Raphael Curti at the end of the lead, Embra receiving perfect 20s for movement, and receiving a huge applause from the audience. That day, Embra truly showed her strong Polish presence, and to recall it gives me goosebumps. In the Senior Female Championship, Embra stood Reserve behind her Polish stablemate Emandoria (Gazal al Shaqab x Emanda). All involved with Embra agree that was her biggest day, and that she truly rose to the occasion.
After three years in Florida, Embra returned to Poland leaving behind a wonderful legacy of four foals, intriguingly each of a different colour: the stallions Eon o (by Jullyen el Jamaal), a grey, and the black Eklipse o (by Jaipur el Perseus), and Hennesseys own mares, the chestnut H Entrique H (by EVG Gentry), and H Embrace H (by Besson Carol), a multiple champion who followed in her dam's hoofsteps by winning her class in Vegas.
Embra sadly passed away in 2015 but her legacy lives on – not least in the memories of those who were there that wonderful day in Vegas, when the sight of this ethereal white mare powering around the arena truly raised the roof.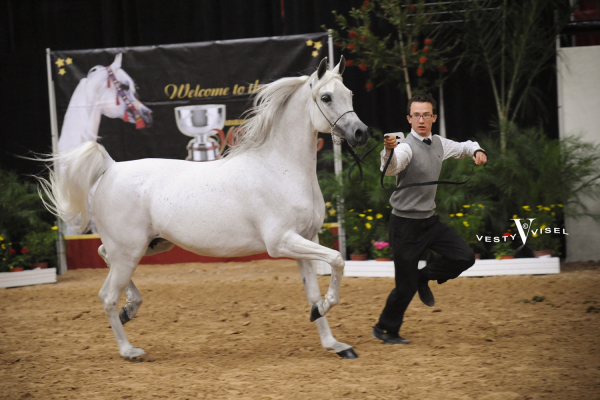 Embra. Credit Vesty Visel.